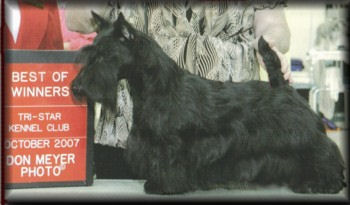 "Mia"


        



Owner: Jenny Whitson & Gail Gaines

Breeder: Rosslyn

Whelped: 11/08/2006




Patellar Luxation Examination results: Normal 
 
Neidfyre Cautcha Looking

Sire
AM CH Valentino Rizo Della Quattrocento

Sire
AM CH Charthill Pirate's Gold

Sire
Am CH Jovial Eastman at Charthill

Dam
AM CH Charity Ruth of Charthill

Dam
Multi CH Cherry Ad Infinitum

Sire
Int/Pl CH Chrles Craft Koncept

Dam
Multi CH Kocia ad Infinitum

Dam
AM CH Neidfyre Moondance

Sire
AM/CAN CH McVan's Stamp of Approval of Jovial ROMX/HOF

Sire
AM CH McVan's Duke of Earl ROM

Dam
AM/CAN CH Gaelforce Post Script ROM/HOF

Dam
AM CH Sodak Highland Skirl

Sire
AM CH Neidfyre Vitta Rouge ROMX

Dam
AM CH Sodak Maguires Melodious Gayle




In a perfect world,
every dog would have a home and every home would have a dog.
















©Rosslyn Scottish Terriers 2007, all rights reserved .
No image or script may be used without expressed written permission.